After U.S. Attack on Syria, Trump May Have Become the 'World Ruler' He Swore He'd Never Be
By The TRUTH HOUND
Stop the Presses News & Commentary
President Trump said on at least three occasions, including in his first official remarks to Congress, that he was not and will never be the "president of the world."
But when United States naval ships in the early hours of April 7, Syrian time, launched a reported 59 Tomahawk cruise missiles with 1,000-pound warheads, to destroy what we're told was a Syrian airfield with relatively "few" people nearby, the U.S. not only attacked a country that had not attacked the U.S.; the U.S. also conducted a purely offensive military move, while clearly functioning as a world police power that reserves the sole right to project its forces against whomever it wants, whenever it wants, while answering to NO ONE.
No other country would ever assume to have a permanent, worldwide mandate to simply fire away at whatever nation dares to allegedly step over whatever "line in the sand" has been arbitrarily drawn. Does anyone see China or Russia or any other nation acting with such imperialistic, worldwide impunity?
The American people, meanwhile, sit powerless, have no say-so over anything. And they may not know that they actually know little or nothing concerning Syrian leader Bashar al Assad and whether he really attacked his own people with chemical weapons just a couple days before on April 4—which is the alleged reason that Trump OK'd this attack against Syria.
"Assad choked out the lives of helpless men, women and children," President Trump intoned during post-attack remarks in Florida the evening of April 6. "Even beautiful babies were brutally murdered. No child of God should ever suffer [like] this."
Who could disagree—if that's what really happened. But babies and toddlers died when U.S., NATO and other forces blew Libya almost off the face of the earth in 2011 just to topple that nation's leader. Children are buried beneath mounds of rubble or found shot in the street whenever Israeli forces, including American-supplied F-16 warplanes, hammer parts of Gaza in Palestine. No official outrage. No objective investigations that bring any results or reprimands. Israel, which has verifiably used white phosphorus weapons on Palestinians, is called our "greatest ally."
REMEMBER SYRIAN SITUATION OF 2013?
The last time such an allegation was made against Assad—in the latter summer of 2013—the U.S. had quietly amassed heavy forces, prepping to attack the Syrian leader. But, while vague excuses were given and then-President Obama backed down amid Congressional pressure to avoid the attack, the fact is that no one ever proved that Assad attacked his own people with chemical weapons nearly four years ago. (See image of Assad with text below that adds to a broader perspective: Graphic courtesy of blogger and economist Dick Eastman)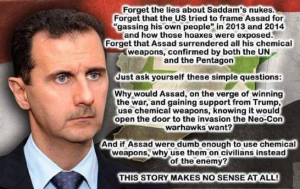 So why should we so easily believe that narrative now? How from April 4 to April 6, 2017 had there been time to definitively prove that the April 4 chemical attack against Syrian citizens had happened and had occurred under Assad's orders? Whatever fact-finding there was surely was not shared with the American people who pay the steep bills for the U.S. World Army.
Come on Mr. and Mrs. America, think: Why would Assad, who liberated the Syrian city of Aleppo just a few months ago—driving out mercenary terrorists that had clandestine U.S. and UK backing and killed tens of thousands of Syrian civilians—mimic those terrorists and kill his own citizens? Wouldn't it be worth carefully investigating whether mercenary forces carried out the attack against civilians and pinned the blame on Assad?
INDEPENDENT OBSERVERS
As has been reported on www.21stCenturyWire.com, on www.UKColumn.com and elsewhere, including this Truth Hound blog, independent journalists Eva Bartlett and Vanessa Beeley have spent time on the ground in Syria and have seen firsthand that if mainstream media even get close enough to know what's going on, they routinely lie about events there, while portraying Assad as a hopeless monster and describing ISIS and other terrorists in murky, evolving terms.
Sometimes words like "the resistance" or "the rebels" are tossed about, as if the mercenaries that have been ransacking Syria and killing Syrians since 2011 are Luke Skywalker and Company valiantly taking on "Darth Assad." Evidence has been mounting that these fighters by and large represent a proxy army, backed by the West. That means these U.S.-UK-Mossad  "intel" forces have already been in  a covert war for some six years against the Syrian government and that this naval assault is just an overt move in an ongoing process.
And in no way, shape or form was this U.S. naval attack a move to "defend the Constitution of the United States from all enemies, foreign and domestic," as all presidents swear to do; nor does it fit into the constitution's narrow grant of power that authorizes the sitting president to call up the military "to repel a sudden invasion." Whatever happened in Syria to spark this naval assault was not the Brits entering Baltimore harbor, raining the "rockets red glare" upon Fort McHenry in the War of 1812.
NBC's sterile reports noted that the naval attack was against "a Syrian airfield in response to what [the U.S.] believes was Syria's use of banned chemical weapons that killed at least 100 people, U.S. military officials told NBC News." [All emphasis added] Notably the 59 missiles were said to have been launched almost simultaneously, so that they'd all detonate within a 60-second time frame, according to CBS News Pentagon reporter David Martin.
The target of the two U.S. warships in the Mediterranean Sea that fired the Tomahawks was "Ash Sha'irat in Homs province in western Syria," NBC also said, referring to that location as "the airfield from which the United States believes the government of Syrian President Bashar al-Assad fired the [Sarin gas] banned weapons" that allegedly killed men, women and children.
There's that word again, "believes." The U.S. is lobbing multi-million-dollar bombs based on what are described as beliefs.
Furthermore, if the world's terrorists are as savvy and savage as we're repeatedly told by the White House, the mainstream press, the "intelligence" community, the military and other establishment sources, then the U.S.—this time under President Trump—has again opened itself up to more blowback in the form of potential terrorist revenge-attacks against the U.S. at home and abroad.
"U.S. officials told NBC News that people were not targeted and that aircraft and infrastructure at the site, including the runway, were hit," NBC added, while relating: "Ahrar Al Sham, the largest Syrian armed rebel group, told NBC News it 'welcomes any U.S. intervention through surgical strikes that would deter the Assad [regime's] capabilities to kill civilians and shorten the suffering of our people."
Ah, news organizations with titanic budgets and resources need not find out things themselves; they need only be "told" things, including by terrorists who are relabeled as "rebel groups."
MORE U.S. SABER-RATTLING
"Secretary of State Rex Tillerson and Nikki Haley, the U.S. ambassador to the United Nations, have bluntly blamed Syria for the chemical weapons attack, whose victims included at least 25 children," NBC also said, adding that "Tillerson told reporters . . . that 'there is no doubt in our minds' that the Syrian regime was responsible for the attack. And in a combative speech at the U.N. Security Council on Wednesday [April 5], Haley warned: 'When the United Nations consistently fails in its duty to act collectively, there are times in the life of states that we are compelled to take our own action.'"
Note the verbal flim-flam. The UN, a world body, failed to act, so the U.S., as a mere "state," took action. The unstated reality is that the U.S., for all intents and purposes, is an acting world government.
And while Defense Secretary James Mattis reportedly briefed President Trump and convinced him, only a day after the purported chemical attack, that U.S. forces should intervene right away, Russia, the Syrian ally that helped liberate Aleppo and drove ISIS to the margins, issued no immediate responses. But as time passed, the Kremlin called the U.S. attack an act of "aggression against a sovereign state," while noting that already strained U.S.-Russian relations cannot help but get worse. (Stay tuned for more on that).
According to the Associated Press, some Syrian officials responded promptly: "Talal Barazi, the governor of Homs province, where the targeted air base is located, told The Associated Press by phone that most of the strikes appeared to target the province in central Syria [previous reports said western and northern Syria—Editor's Note]. He also said the strikes were meant to 'support the terrorists on the ground.' He told Al Arabiya TV that a fire raged for two hours in the base, until it was put out."
Recall, that Trump has vowed to eradicate ISIS. Ironically, he used to have an ally in Syria to accomplish that very thing; same goes for Russia, with which Trump wanted better relations. Yet, all of that could be in jeopardy. A weaker Syria means a stronger ISIS and worsened relations with Russia. It'll be up to Russian leader Vladimir Putin, once again, to exercise a great deal of restraint and common sense, to prevent a world war.
Tillerson and Haley need only accuse Russia of turning a "blind eye" to Syria's transgressions and it must be "true." Evidence? Congressional input before U.S. military action? Bah! Mere relics of the past.
"Russia cannot escape responsibility for this," Haley also pontificated at the UN. "They chose to close their eyes to the barbarity. They defied the conscience of the world." And tough-guy Tillerson, according to NBC, urged Russia to "consider carefully their continued support of the Assad regime."
Thusly, the world-president position that Trump vowed not to seek is essentially a reality for him. It's only a question of whether he reached for the reigns or they were sternly handed to him by the world financial consortium, led by those with surnames like Rockefeller and Rothschild, which continues to employ the U.S. as the Guns of the World for interests and reasons that few will ever really know.
And according to  an April 7 report on UK Column News, the various terrorist factions and "freedom fighters" embedded in Syria all revolve around al Qaeda, which the U.S. still blames for the 9-11 attacks but at the same time pumps guns, ammo and other supplies into Syria in the ongoing effort to "un-elect" Assad at gunpoint. Accordingly, the terrorist groups reshuffle themselves while often adopting new brand names.
"Al Nusra, which formerly had ties to al Qaeda, changed its name to Jabhat Fateh Al Sham, before merging with other groups this year to become Hayat Tahrir Al Sham," as UK Column reported, giving an example.