Did 'Trump, the Tactician' Buffalo the 'Demonrats' in the Brutal Battle for the Border Wall?
By Mark Anderson
Stop the Presses News & Commentary

The New York Times Feb. 15 edition, in the immediate wake of President Donald Trump's declaration of an emergency at the southern border—which clears the way for his administration to construct new border-barrier sections and reinforce existing ones—carried no fewer than eight headlines for stories that, in varying degrees, lambasted the president for doing what he feels is necessary to protect the nation's southern border.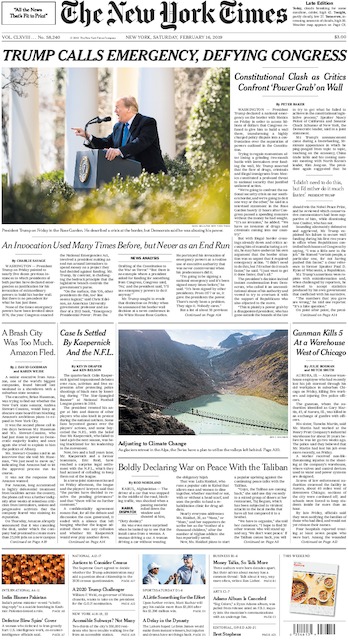 While most media outlets cast the president's move as a surefire magnet for multiple lawsuits, it's helpful to peer behind such headlines to gain some appreciation of Trump's actions.
Mike King, editor of the popular website "The Anti-New York Times," sees the matter as a transparent attempt on the part of big-box media to mischaracterize Trump's border-emergency decision—but the catch is that it appears Trump put one over on the media and on what King calls the "Demonrat" Party.
"In classic Sun Tzu fashion," King wrote in an online post, referring to the ancient Chinese military strategist who advocated deception and guile over raw force, "Trump induces his enemies into believing that he is stupid [or unsophisticated] unto the ways of the politician. This works to his advantage. It is absolutely delightful to behold exactly how clueless the stupid left remains as to the political stratagems being played upon them."
King pointed to the following New York Times passage as an example of the utter cluelessness of the journalists inhabiting today's newsrooms: "Trying to regain momentum after losing a grinding two-month battle with lawmakers over funding the wall, Mr. Trump asserted that the flow of drugs, criminals, and illegal immigrants from Mexico constituted a profound threat to national security."
But as King sees it, "Trump did not 'lose a two-month battle' over limited wall funding. He wanted the Demonrats to reject his demands all along. Why? So that he could declare an emergency and get unlimited funding instead."
And even the Times admitted the funding realities, though it's not altogether clear if the nation's purported "newspaper of record" understands the full implications of its own reporting, to wit:
"The border emergency declaration . . . enables Mr. Trump to divert $3.6 billion budgeted for military construction projects to the border wall, White House officials said. [He] will also use more traditional presidential budgetary discretion to tap $2.5 billion from counter-narcotics programs and $600 million from a Treasury Department asset forfeiture fund. Combined with the $1.375 billion authorized for fencing in a spending package passed by Congress [on Feb. 14, to avert another shutdown], Mr. Trump would then have about $8 billion in all to advance construction of new barriers and repairs or replacement of existing barriers along the border this year, significantly more than the $5.7 billion that Congress refused to give him."
Thus, it's a safe bet that what Trump did—which the media, apparently tone-deaf to well-honed strategies, failed to grasp—was to purposely ask Congress for much more money ($5.7 billion) than he realistically thought he would get from the normal funding system with the Democrats running the House, in order to actually receive between $1 billion and $2 billion (he got $1.375 billion), while knowing full well that the emergency declaration would net him even more than the $5.7 billion. And it did—$2.3 billion more, totaling $8 billion.
Meanwhile, fewer new tax dollars are needed and more existing funds, already budgeted, are being used—funds that evidently were pre-arranged so they could be used for the border. Therefore, this appears to be a classic case of Trump the tactician at his very best.
Those who believe, like House Speaker Nancy Pelosi (D-Calif.) and her ilk, that the border dangers on which the emergency is based are illusory need only recall that some 700 illegal entrants were arrested in the Rio Grande Valley of Texas border sector alone the day after Trump's Jan. 10 visit to the region—a calculated lead-up to his eventual emergency declaration since his visit, covered by this Texas-based writer, revealed broad Hispanic-American support for the wall.
More specifically, Rio Grande Valley Sector Border Patrol agents reported the apprehension of a record-setting 771 illegal entrants the day after Trump's visit, a number that local network news affiliates, despite their usual tendency to downplay the seriousness and full scope of border insecurity, could not help but report. The apprehensions exceeded the reported 456 apprehensions from the day before his visit.
"771 apprehensions in a single day is a glaring indicator of the need for additional border security resources in South Texas," RGV Acting Chief Patrol Agent Raul Ortiz said in a written statement. "Friday's numbers [Jan. 11, 2019] support the President's assertion that the current state of the border remains porous. There is currently not enough infrastructure to adequately address the hundreds of illegals who cross here every night."
Informational forums in the valley also covered by this writer over the last few years have revealed that people from countries as far away as Pakistan and China are entering the U.S. illegally from the south, besides Central Americans and Mexicans. And unknown elements, including criminal and terrorist figures, are known to be adjoined to the flow of average people, many of whom, including children, are endangered by open-border areas that incentivize the trafficking of people along with drugs, illegal guns, and other contraband.
There is no "illusion."
EDITOR'S NOTE: To obtain a broader perspective on this matter, including another article that takes a more skeptical view of Trump's actions regarding border-security policies, please go to this web link at American Free Press http://americanfreepress.net/trumps-border-emergency-order-brilliant-or-betrayal/