Broadening Global Cities Movement Advances in UK, But Fosters Betrayal in Chicago of Newspaperman's Legacy
The above You Tube video includes Mr. Anderson, the founder and director of the Stop the Presses news association, re-joining Mike Robinson and Brian Gerrish at UK Column News on the 3rd of October, 2018 after a late-summer break. While Anderson in this video reports on and describes the Global Parliament of Mayors' Oct. 21-23 summit in Bristol, UK, he shares another aspect of the global cities/global mayors movement in the exclusive article below out of Chicago.
By Mark Anderson
Stop the Presses News & Commentary
CHICAGO, Ill. — In this writer's ongoing coverage of the institutions that constitute "The Bilderberg Network," the inverted thinking and often shocking audacity behind these organizations never seem to end, with the latest case-in-point again coming out of the Chicago Council on Global Affairs (CCGA).
Having already greased its wheels with a major financial gift of an undisclosed sum from the family of defense mogul Lester Crown of General Dynamics fame, as reported by this writer in the Aug. 27 & Sept. 3 edition of American Free Press, the CCGA announced Sept. 10 that it has received yet another huge gift—this one a $4 million grant to its Second Century Campaign from the Robert R. McCormick Foundation.
A CCGA news release added, "These funds will support the Council's mission to promote public engagement in global affairs and an active U.S. role in the world, and specifically to advance understanding of the increasing importance of global cities in influencing political, social, and economic policies."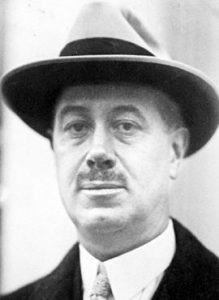 The brisk slap in the face here is that the namesake of this foundation—legendary Chicago Tribune publisher Robert R. McCormick—if he were alive would have a coronary over the foundation that carries his name funding an "active U.S. role in the world," much less a "global cities" template that subtly seeks to unconstitutionally empower cities here and abroad with foreign policy and diplomatic authority, thereby doing an end-run around the authority of nations.
THE REAL DEAL
Robert Rutherford "Colonel" McCormick (1880 to 1955) was an America-firster to the core. President Donald Trump, promising though he may be in some respects, pales by comparison. McCormick earned a law degree and was a Republican Chicago Alderman and a distinguished World War I officer. The six-foot-four crusader went on to own and publish the Chicago Tribune, molding it into a flagship of non-interventionism which also opposed FDR's New Deal.
After becoming the Tribune's president in 1911 and serving as its publisher and editor-in-chief from 1925 to 1955, he built a newspaper empire, taking control of the New York Daily News and Washington Times-Herald. Under his leadership, the Chicago Tribune achieved the largest circulation among U.S. standard-sized newspapers—largely on the basis of America's founding principles, not the subjective arguments of the CCGA that parade endless notions of "global engagement" before the American people and tell them that such ideas are eternally in the nation's "best interest."
Anywhere you look tells of McCormick's steely determination not to let America become a mere pawn in any kind of fanciful "new world order. Online encyclopedia Wikipedia says:
McCormick opposed the increase in federal power brought about by the New Deal and later opposed American entry into World War II. His death also created what is now the McCormick Foundation, known for its philanthropic activities.
The New World Encyclopedia, which like virtually all modern sources, is larded with jabs against McCormick—a New York Times review of a 1997 biography about McCormick labeled him a "blowhard"—did note:
McCormick's pro-Republican editorials maintained an extreme right-wing position on a variety of different issues. He criticized unions, Democrats, liberal Republicans, socialism, and communism. He also carried on crusades against gangsters and racketeers, prohibition, British imperialism and the League of Nations, the World Court, and the United Nations.
Yet, the CCGA bluntly said of the $4 million gift: "This generous grant demonstrates the [McCormick Foundation's] confidence in the [CCGA] to advance innovative ideas and arm civic leaders and experts in shaping a new world order (emphasis added)," according to former U.S. ambassador to NATO Ivo Daalder, the CCGA's president.
As one of the leading advocates of burying America's founding ideas under a mountain of trans-nationalist tripe, Daalder also said: "Cities are on the frontlines of national and global challenges, from immigration to inequity to climate change, and this grant will support the Council's efforts to convene civic, business, academic, and cultural leaders who, together, can develop creative solutions to these and other issues that transcend borders."
The additional slap in the face of McCormick's legacy, which also included McCormick's creation of the famous WGN ("World's Greatest Newspaper") radio network which soon included television stations, is that the CCGA's relatively new Conference Center, located in the Loop at 130 E. Randolph Street in the Prudential Building has been re-named the Robert R. McCormick Foundation Hall.
Furthermore, the McCormick Foundation's latest grant to the CCGA, which is the former Chicago Council on Foreign Relations, is part of a long history of foundation support for the CCGA. In fact, the CCGA noted, "In 2015, a $1.5 million grant from the foundation helped to launch the Council's global cities work . . . . [It] also helped to launch the [CCGA's] annual Chicago Forum on Global Cities," one of the Council's signature events.
Tragically, that means the CCGA's core mission of fostering global cities to carry out an "end-run around national sovereignty"—mirroring the strategy spelled out in a pivotal April 1974 article in Foreign Affairs, the journal of the plutocratic usurpers at New York's infamous Council on Foreign Relations—is literally being carried out with funds from a foundation spawned by a man who based his life on an entirely different worldview, writing editorials about and dedicating his well-traveled reporters toward an independent, constitutional America.
Therefore, one might say that the CCGA and the McCormick Foundation are dancing on Col. McCormick's grave, amid this vast misrepresentation of what he stood for. Col. McCormick's history, it appears, has been rewritten.
Or written off.